2023 Annual Show
The Mad Hatter Chorus proudly presents its 57th Annual Show "A Little Bit Country...A Little Bit Rock & Roll"!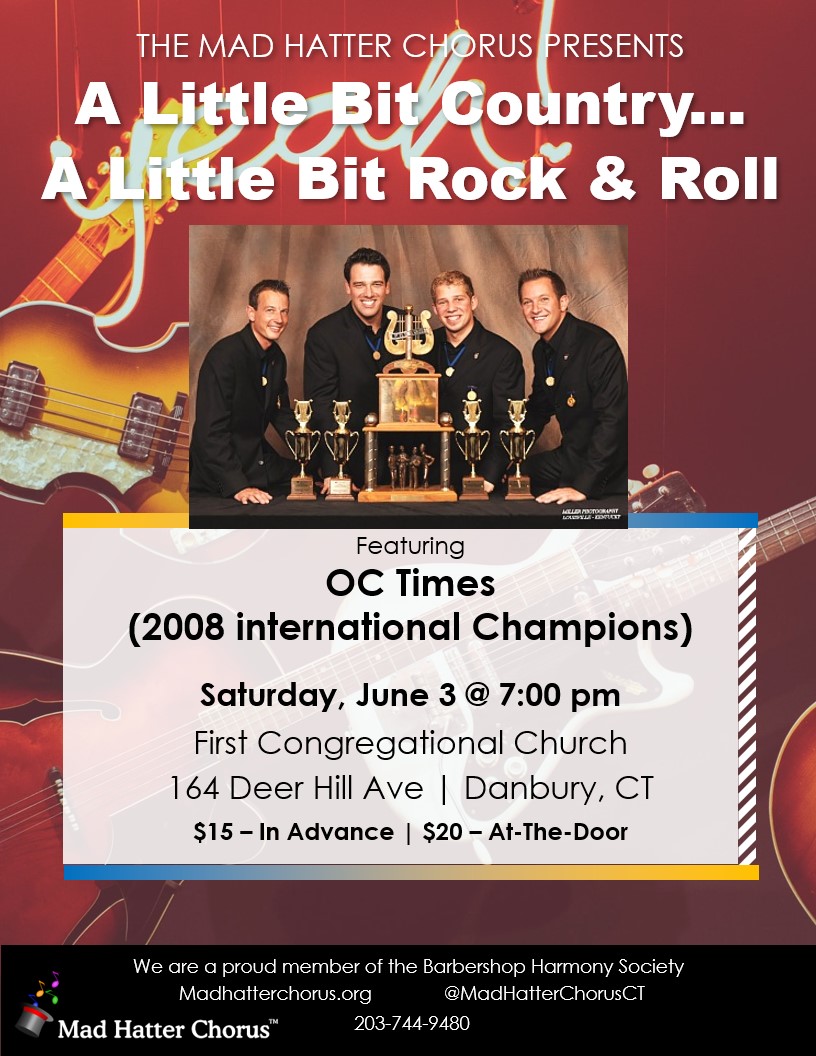 This year's show will feature the Mad Hatter Chorus (2-Time New England Chorus Medalists), various chapter quartets and the 2022 NED Very Large Quartet Champions Harmonic Combustion.
The groups will be singing songs from country western hits (John Michael Montgomery's Sold!, Patsy Cline's Crazy, and others) all the way to rock & roll classics (Elvis's Jailhouse Rock, the Drifter's Under the Boardwalk, and others).
Our very special guests are the 2008 Champions OC Times! Hailing from Orange County, California, OC Times brings something new to the table: traditional barbershop harmony, influenced country and swing… stylized by pop-culture. Inspired by artists like Michael Bublé, Frank Sinatra and Elvis, OC Times breathes new life into swing standards, rock and roll classics, and even some country favorites!
Come hear songs that are "A Little Bit Country...A Little Bit Rock & Roll"!
Tickets are $15 in advance and $20 at the door. Children 12 and under are free!
Preferred seating is $25, with proceeds going towards the Association of International Champions, whose generosity helped bring this show to the Danbury area.
We are grateful for the generous support of our sponsors, the CT Humanities Council and the Danbury Cultural Commission as we continue to bring live performances to the Danbury area in 2023.
---
To order your tickets, click HERE.
---
To stream this show and previous shows, visit HERE.